Home > Projects > Panoramas, 2002-2008
You can click on any of these to see a larger version.
These are older panoramas. See the most recent ones.
Cape Cod
August 24th, 2008
A day at the bay beach.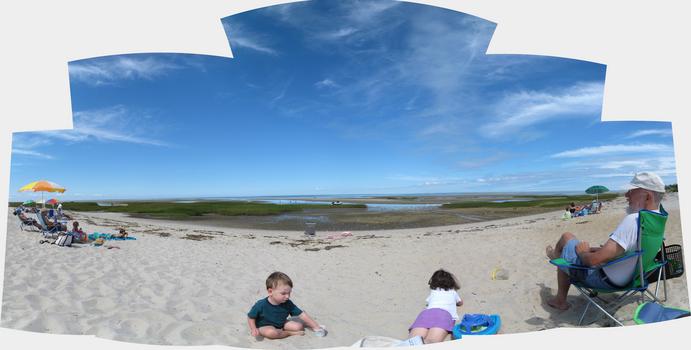 Sea View Avenue
June 24th, 2008
A rainbow seen from a friend's porch.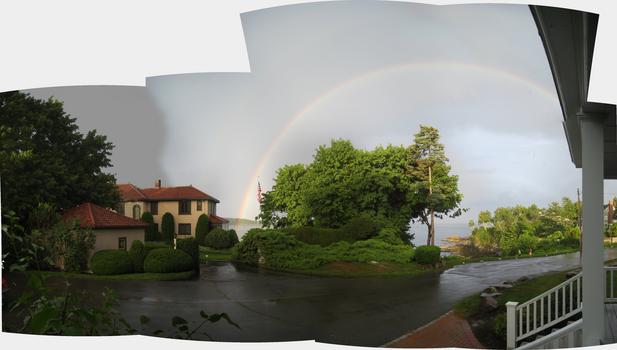 Vail Island
June 14th, 2008
A small island a few minutes' ride from Portland harbor.

Kettle Cove
June 8th, 2008
This is our favorite beach in the Portland area. At low tide on the first perfect beach Sunday of the year. Eva and her friend Finn at left; Hilt and Linda walking on the beach; Becca and Noah at the center.

Cape Cod
May 25th, 2008
Linda, Eva, Hilt, Noah, and Rebecca visible at the right.

Fort Williams
May 18th, 2008
Lots of dandelions.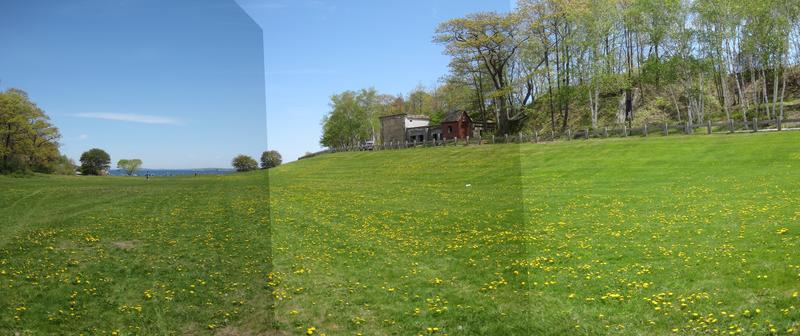 Turks and Caicos
February 6th, 2008
A 360° view of the beach near our hotel.

February 7th, 2008
A 360° view from a platform in the center of Iguana Island.

A 270° view from the beach at Iguana Island.

A 360° view of Shell Island.

Cambridge and Boston
September 17th, 2006
The view from the 22nd floor of the Cambridge Marriott.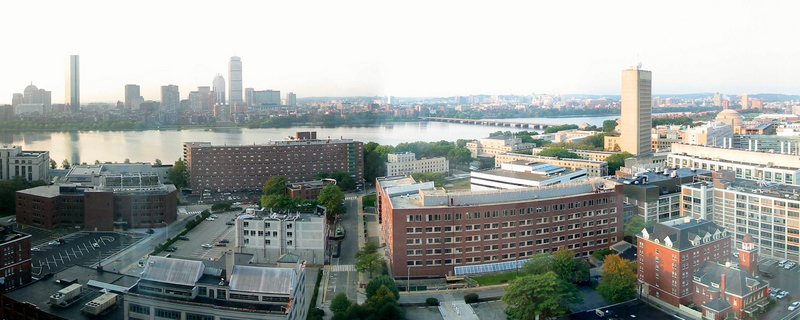 Rangeley Lake, Maine
July 30th, 2006

Abbott house, Cape Cod
July 8th, 2006
Hilton and Linda's 40th wedding anniversary
It was an insane amount of work to get this looking halfway decent. Still, things don't line up perfectly, half of Joanna's head disappeared, there are two Sarahs, etc. Lesson learned: it's hard to make panoramas at close range, with moving subjects.

Maxwell's Farm, Cape Elizabeth
July 4th, 2006
Strawberry picking on the Fourth of July
Click on either photo to see the full 360° version.
Upper Mill Pond, Cape Cod
June 28, 2002
Tucson, Arizona
April 21, 2002
Karen Ouchida's wedding
At the wedding, I had just figured out how to make panoramas. These are all VR panoramas which allow you to pan around; they require Quicktime.